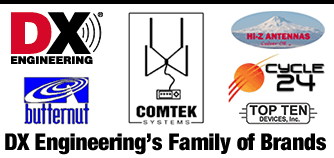 DX Engineering Products
From station accessories and antennas to the cable assemblies, clamps, and hardware that bring it all together, DX Engineering products are made without compromise. DX Engineering always uses superior materials and expert engineering.
Build a better station with our fiberglass and aluminum tubing, element and saddle clamps, cable and connectors, and tools. Maximize performance with DX Engineering verticals and dipoles, antenna add-on kits, baluns and UNUNs, receiving and transmitting array packages, and more. And keep your station in peak condition with weatherproofing kits, grounding plate kits, and adhesives.
The newest additions to the DX Engineering antenna line are the acclaimed Skyhawk and Skylark Yagi Antennas. The antennas deliver the perfect combination of performance and operating ease. DX Engineering carries all the necessary repair and replacement parts for both antennas.
Butternut Antennas
Butternut has several critically acclaimed vertical antenna designs, including 2-band, 6-band, and 9-band options that provide efficient performance. The antennas' compact size makes them easy to install, yet they will deliver significant performance on each band.
DX Engineering offers add-on kits, plus repair and replacement parts for Butternut antennas.
Comtek
Comtek is known worldwide for its vertical antenna arrays and accessories. Comtek arrays deliver superior DX performance compared to common horizontal antennas, making them the antenna setup of choice for serious DXers, contesters, and hams. Comtek's antennas and components include four-square phased vertical arrays, four-square array controllers, two-element phased vertical arrays, antenna switches, cables, and more.
Cycle 24
Cycle 24 Galvanized Economy Saddle Clamps are an inexpensive solution for your antenna and tower projects. Offered in a broad range of sizes, the clamps' industrial grade galvanized steel saddles and U-bolts will last for many years in outdoor environments.