DX Engineering RF-PRO-1B® Active Magnetic Loop Antennas
DX Engineering RF-PRO-1B Active Magnetic Loop Antennas are designed for low-noise reception of signals within the frequency range of 100-kHz to 30-MHz. Their integral, extra-high dynamic range, low-noise preamplifier is designed for minimum intermodulation distortion in the presence of very high-level signals that would normally overload most preamplifiers.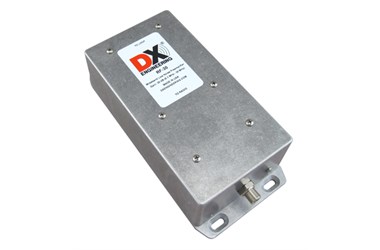 DXE-RF-PRO-1B Active Magnetic Loop Preamplifier (RF-30)
RF-PRO-1B Active Magnetic Loop Antennas, formerly known as the "Pixel Loop" and recently as InLogis, are now manufactured and serviced by DX Engineering. One of the reasons that DX Engineering invested in becoming the owner and manufacturer of the amazing RF-PRO-1B Active Magnetic Loop is because the preamplifier design is very stout and capable. It is a specialized adaptation of the famed Norton Amplifier, a design achieved by the brilliant engineer and owner of Clifton Laboratories, Jack Smith, K8ZOA, who passed away not long ago. Years ago, this excellent high-gain, low-noise preamplifier was licensed from Clifton Laboratories by Pixel for use on this magnetic loop antenna, with the understanding that Jack's name or his company name would not be used.
Now that DX Engineering also owns the rights to Clifton Laboratories designs, we can share this amazing fact about the RF-PRO-1B Active Magnetic Loop preamplifier.
Most active antennas are whip types and respond mainly to the time-varying electrical-field portion of an electro-magnetic radio wave. The magnetic loop responds primarily to the magnetic field and thus ensures high rejection of nearby electric fields. The intensity of the electric field is usually higher than the magnetic field when an antenna is close to interference sources such as TVs, fluorescent lamps, power line wiring etc. By rejecting the electric field there is a reduction in local interference compared to other types of active and passive antennas. They can be mounted to a pole, mast or any flat surface.
Interference reduction is further enhanced by the deep nulls of the antenna's directional pattern that can be used to "null out" or reduce interference coming from a specific localized direction. Installation of the loop on a simple rotator allows the listener to position the loop for maximum rejection of an interfering noise or signal. Many hams are discovering that having separate receive and transmit antennas yields advantages. These receive-only antennas are also a sure-fire way to cover the new 630-meter allocation!
Detailed features of DXE-RF-PRO-1B® Active Magnetic Loop Antennas:
Primary coverage range: 100 kHz to 30 MHz (50 kHz - 100 kHz with reduced specifications)
A great receive solution for 630 meter band (472-479 kHz)
Very low IMD, 30 dB Low-Noise Preamplifier insures good performance in both strong and weak signal environments
Up to 30 dB rejection of locally radiated noise compared to whip antennas
Figure eight directivity provides deep nulls to further reduce interference
Rejects power line noise
Rugged construction, easily mounts to a pole or flat vertical surface
No manual tuning necessary
No Home Owners Association problems; low profile and works only 5 ft. above ground level
Modular design for easy installation and maintenance
Internal Transmit/Receive keying relay disconnects Antenna/Preamp from your receiver when transmitting
Same item and improved quality as the old Pixel Technologies RF-PRO-1A and RF-PRO-1B Loops
NOTE: This is a receive-only antenna. DO NOT connect the RF-PRO-1B to a transmitter or the power injector and preamplifier can be damaged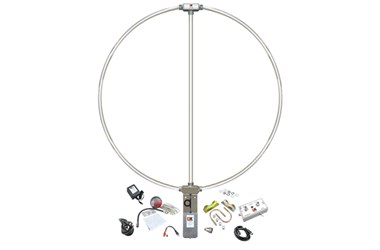 For Amateur Radio operators, AM DXers and Short-Wave Listeners, these active loop antennas are a great way to extend your listening ability. Add DX Engineering RF-PRO-1B Active Magnetic Loop Antennas to your radios and start hearing more signals with less noise!
5

Customer Reviews for

DX Engineering DXE-RF-PRO-1B - DX Engineering RF-PRO-1B® Active Magnetic Loop Antennas
Average Customer Review
5 Star
(4)
4 Star
(1)
3 Star
(0)
2 Star
(0)
1 Star
(0)
Saved My Hobby

DX Engineering Verified Purchase
The S9+ noise level in my neighborhood nearly drove me to take my entire station to the nearest hamfest and be done with it all. After considerable reading, viewing You Tube demonstrations and corresponding with eHAM reviewers, I decided to make this considerable investment and give it one last try. The result was a near religious experience. Man-made noise essentially disappeared...and I do mean disappeared...from my rig. Attached are screen grabs of my Flex 6500 screen showing the before and after noise levels in my neighborhood. Results are essentially the same from 160M to 17M. Band conditions have not allowed me to make worthwhile evaluations on the higher bands. Interestingly, some signals are stronger with the loop while other are weaker. There are many variables that make this happen. But, the key point is that with the dramatic drop in the noise floor, at least I can hear signals that were entirely masked without the loop. One word of caution on installation: I thought I was being very careful when tightening the F-connectors to the preamp box that mounts on the mast directly below the loop. Unfortunately, the receptacle on one side of the preamp box rotated and tore the ground lead from the circuit board inside. Fortunately, I was to resolder the lead to the circuit board with no permanent damage. If you make the same mistake on the connector to the loop itself, you are doomed because the electronics inside that box are completely potted. One complaint: The power insertion box on which the antenna jacks are located is a nightmare. The box has no mounting flanges. The power jack is on one end of the box, the on/off switch is on another side, the keying jack is on yet another side, and the antenna jacks are on still another side. There is no way to mount this box so you can conveniently turn the unit on or off. (The unit is provided with its own 24V wall wart, so you cannot simply power it on and off with your station's 12VDC supply.) So it just hangs on the side of my equipment shelf with wires coming out every direction. This is very unprofessional. Finally, remember this is a receive-only antenna. It is not the same as a full size antenna a half-wavelength in the air, but it does allow you to hear signals very well when you otherwise would have no clue that they are there. This was the best investment I made in Amateur Radio in a long time.
9 of 9 found this review helpful.
Was this review helpful? Yes | No
Reviewer: FRANK from MN
Date: April 20, 2018
RF-Pro-1B Mag Loop

DX Engineering Verified Purchase
Would be 5 stars however I can not keep moisture out of the preamp. New on on the way hoping they have corrected waterproofing. performance is great, does not cure every noise issue but sometimes it pulls out some I can not copy with 7610 or 7300. Tim W4YN
4 of 4 found this review helpful.
Was this review helpful? Yes | No
Reviewer: TIMOTHY from NC
Date: February 22, 2018
Noise floor drops at Least 7db

DX Engineering Verified Purchase
Just installed the mag loop receive antenna and connected to my IC-7610. My main antenna is a SteppiR vertical and we all know noisy a vertical can be. When switching over to the loop from the vertical, the noise floor drops away. (see photos) Already worked a DX CW station I could not select out with the radio using the vertical. Switched to the mag loop and there he was. Weak but workable. The loop is about 50 feet from the vertical. I have used 1KW of power with no problems. I have the radio transmit delay set to 20ms to ensure the preamp has time to get off line while transmitting. I need more experience with the loops directivity. That will come with use. I installed the Channel Master rotor that works fine. The tripod is a ROHN roof tripod. Very well made. You use two masts. One from the tripod that fits in the bottom of the rotor and one that installs into the top of the rotor to the loop. I kind of wish I had purchased the Yaesu light duty rotor but it was $300 more than the Channel Master. The Channel Master has a remote control that I simply hit three digits for the heading. And many thanks to DXEngineering for almost immediate support. Brad N6GR
1 of 1 found this review helpful.
Was this review helpful? Yes | No
Reviewer: WILLIAM from TX
Date: February 25, 2019
Ideal RX antenna for DDC SDR receivers
With the growing popularity of direct down-conversion SDR receivers that can receive several bands concurrently, a good broad-band antenna is a must. This antenna works extremely well from LF to HF. This is an excellent RX antenna for the new 2200m and 600m bands. WWVB on 60kHz is almost always audible. Works very well on 160m too. The sharp null of the loop can be used to reduce QRM or QRN from a point source. I have not seen any IMD products from powerful MF or HF broadcast stations either. Below 15MHz this antenna almost always provides the best signal-to-noise ratio of all my antennas. I would buy it again and I recommend it highly.
0 of 0 found this review helpful.
Was this review helpful? Yes | No
Reviewer: BRIAN from TX
Date: May 05, 2019
Reviewing the Magnetic Loop, RF-PRO-1B from KG7A

DX Engineering Verified Purchase
Just put it up day before yesterday and RX performance seems to be excellent on the low noise floor. Don't know about directivity and nulling yet but still working on it. Added 1 1/2" PVC to the top of loop for better support .Thanks, KG7A Ronny B.
0 of 0 found this review helpful.
Was this review helpful? Yes | No
Reviewer: RONNY from AZ
Date: April 06, 2019