Ciro Mazzoni MIDI Automatic Magnetic Loop Antennas
bring exciting new capabilities to limited space operations with unparalleled reliability and dramatically higher power handling. These are simply the best small transmitting loops available in the world!

Ciro Mazzoni MIDI Automatic Magnetic Loop Antennas are made of tough, attractive, aircraft-grade aluminum. For hams suffering with HOA or deed restrictions, an efficient and comparatively small antenna can make a HUGE difference! In spite of their relatively compact size, these antennas are resonant over a wide range of bands; from 80 through 20 meters… and continuously, without any frequency gaps. They're great for MARS and CAP use!

Loop tubing is welded so no screw connections are present; thereby adding strength while completely eliminating intermittent connections and contact resistance. Their tuning capacitor is not a simple variable capacitor but a large, interleaved, air-variable capacitor made of hefty aluminum plates. Each set of capacitor plates is welded directly to opposite portions of the top of the loop. This method creates an extremely robust and stable capacitor!

A weather-resistant actuator motor changes the loop diameter, causing it to expand or contract and thus adjusts the capacitor for minimum SWR. Resonance is adjusted by a control unit in the shack. Although resonant bandwidth is very small (as with all compact loops) tuning is very smooth and easily accomplished when you change bands or QSY within the band.

The included ATU 2.0 loop controller allows RS-232 direct-frequency control by certain radios. In rigs with CAT or CI-V output, antenna tuning will automatically track your VFO and band changes. The frequency information is directly transferred from the radio (Elecraft, ICOM, Kenwood, and Yaesu) to the controller, and then the antenna tunes automatically to the current frequency. To interface an ICOM transceiver, the optional Interface Cable is required to connect the Loop Antenna ATU 2.0 to Icom transceiver CI-V "Remote" connector.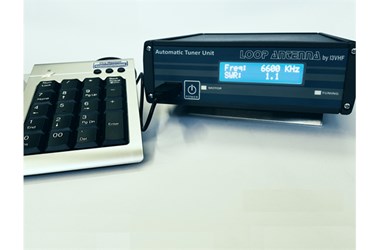 For radios lacking an interface, manual tuning is easy. Using the ATU 2.0 controller's small numeric USB keyboard, enter the desired frequency, wait a moment, and your loop is ready. The antenna has tuned itself automatically and is ready to use. There is no difficult tuning process, no note taking and no complicated search for lowest SWR. The ATU 2.0 display shows frequency and SWR immediately and LEDs signal the status of the controller.

Please note that the antenna controller will safely pass up to 200 watts of RF- no more. For higher power applications place the controller between your transceiver and the linear amplifier. The loop antenna will still tune properly. The controller uses a very low-power DDS oscillator to tune the loop so it will tune right through your amplifier. Tuning does not require transmitting!

Magnetic loop antennas typically have a small negative gain when compared to a dipole. However, their signal to noise ratio far exceeds that of a dipole. It's their enhanced S/N ratio that makes these magnetic loops superior receiving antennas.

Some MIDI loop technical data:

* Frequency Range: 3.5 - 14.5 MHz

* SWR: 1.2:1 typical

* Loop Diameter: 2.0m (78.7 in.)

* Element Diameter: 75mm (2.9 in.)

* Impedance: 50 ohms nominal (gamma matched)

* Maximum Input (PEP and CW): 300 W from 3.5 to 7 MHz; 800 W from 8 to 14.5 MHz

* Front/Side ratio: 25 - 35 dB (depending on the environment)

* Wind loading: 0.5 square meters (5.38 sq. ft.)

* Wind Survival: 100 mph

* Control cable pair: 18 AWG (18-2) up to 65 ft.; 14 AWG (14-2) up to 100 ft.; 12 AWG (12-2) over 100 ft.

* Weight: 20 Kg (44.1 lbs.)

* Maximum Mast Diameter: 76mm (3 in.)

* Assembly hardware: Stainless Steel

Note: Whenever the DX Engineering "Documentation" tab is available, please look at the associated files for additional product information. The provided documents will help you to better understand this product.

Do you require a very-high quality and robust antenna that has low visual impact? Do you want to operate with respectable power over a wide frequency range? If so, then Ciro Mazzoni Automatic Magnetic Loop Antennas are a great choice!
1

Customer Reviews for

Ciro Mazzoni MIDI - Ciro Mazzoni Automatic Magnetic Loop Antennas
Average Customer Review
5 Star
(0)
4 Star
(1)
3 Star
(0)
2 Star
(0)
1 Star
(0)
Ciro MIDI Loop Antenna

DX Engineering Verified Purchase
I have had my Ciro MIDI Loop Antenna for about 3 weeks and it is performing as well as or better in some circumstances, than a brand name folder wire dipole 35ft high in my backyard. What I like about this antenna is the small footprint and low mounting height requirement. It works exceptionally well for me on 20m when compared to my resonant wire dipole. Please be aware that this is sensitive precision equipment that performs very well if it is installed correctly. Make sure to adequately manage the stray RF with ferrite beads on all cables (not the antenna cables) attached or near the ATU. Also be sure there is no excessive cable with loops or folds. Ciro Mazzoni and DX Engineering support has been fantastic helping getting this antenna system operating at its best. I have made lots of QSO's across the entire CONUS, despite poor conditions, with great reports. There are signals I cannot hear when switched to my wire dipole that come in loud and clear with the MIDI Loop. I have had QSO's with South Africa and Japan from my QTH in CA running barefoot at 100 watts. Check out my short YouTube video of this antenna. https://youtu.be/usjflq_oOUA
2 of 2 found this review helpful.
Was this review helpful? Yes | No
Reviewer: FRED from CA
Date: September 26, 2018